If you are a designer working with Rhino there's a good chance that you are, or would like to be, involved in creating visuals or renderings from your models; and if you're familiar with rendering, then you've probably heard of KeyShot.
Product Design Rendering with KeyShot
KeyShot generates high quality photorealistic visuals quickly and with minimal learning overhead. The simple interface and pre-built lighting environments mean that you can set up a render in minutes. Drag and drop physically accurate materials, lighting environments and backplates combined with simple sliders for lighting, quality and camera position ensure that you can concentrate on creating great visuals rather than wresting with the interface and making endless adjustments. KeyShot is used by some of the world's leading companies including Motorola, Chrysler, Philips, Microsoft and Whirlpool.
KeyShot Adds The Sparkle To Your Jewellery Design
In KeyShot you can renders rings modelled in Rhino that range from beautiful single settings to elegant cluster rings with multiple materials and gems which are perfected by adjusting the materials, lighting, ground reflection and camera technique to suit your requirements.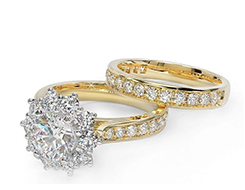 KeyShot has its roots in automotive and product design and these types of studio set-ups remain its strong suit. Over the years, however, KeyShot has added features such as light objects, a 'sun and sky' environment and an interior lighting mode that broaden the range of the product – so if, for example, you are involved in occasional architectural scenes then KeyShot has a solution for this.
Easy to Learn Photorealistic Rendering
Luxion, the developers of KeyShot, have been working on this rendering platform for over ten years and, over the various releases, KeyShot has now become an extremely full featured product with a feature set to rival most renderers on the market. What this means in practice is that it's easy to jump straight into KeyShot and produce great photorealistic visuals, but there is a real depth to the product that allows you to add complexity to materials and effects to the lighting and camera when needed. KeyShot also allows you to save out separate layers and render passes for post processing composition in Photoshop.
Click our videos below to learn more
A key feature of KeyShot is the real-time preview. This is not a cut-down approximation of the final visual but a full raytraced image that renders in front of your eyes and lets you see accurately how changes to lighting, materials, environment etc will affect your image. This ensures that the creative process in KeyShot is fluid and avoids the iterative render workflow of some other products.
Getting Rhino data into KeyShot is easy. Although KeyShot is a standalone product that reads a wide variety of CAD formats, there is a 'live linking' plug-in for Rhino. This plug-in means that not only can you launch a KeyShot render from inside Rhino but that when you change your geometry in Rhino you can also easily pass these changes on to KeyShot without having to re-apply materials.
No doubt you've already seen some of the high quality photorealistic results that KeyShot can produce; so now take a look at our KeyShot video series to see just how easy it is to work with Rhino and KeyShot. If your mind is made up that KeyShot is the right render package for you then you can buy it now – just click the button below to visit the Rhino Webstore and make your KeyShot purchase.